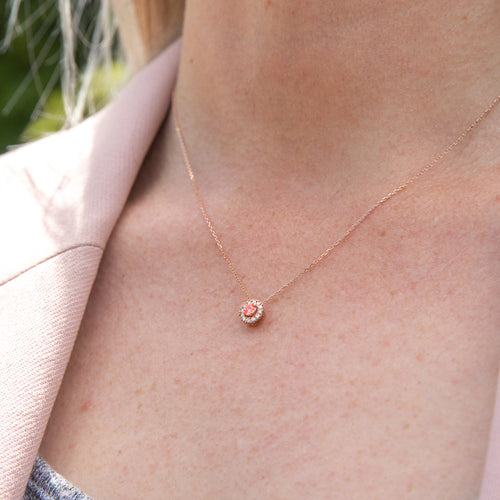 In the year 2022, you would probably think that jewellers have already discovered every possible way to design and style gems into jewellery. However, that could not be further from the truth. Even the floating diamond necklace was created about 200 years ago by French jewellers. What is so unique about this design is that it makes the diamond look as though it is floating on your chest. 
If you're curious about floating diamond necklaces, you've come to the right place, we'll tell you everything you need to know about floating diamond necklaces. This is our comprehensive guide to floating necklaces, and hopefully, by the end by the end of this, you'll have everything you need to know about floating diamond necklaces.
Overview:
What Is A Floating Diamond Necklace?
If you're asking yourself exactly what a floating diamond necklace is, then we'll explain just that for you. To make a floating diamond necklace, the chain of the diamond must be hidden behind the setting creating the illusion of the diamond floating between the two sides of the chain. Another common way of making a floating diamond necklace is to have three or more diamonds lined up next to each other and have been secured from behind so it is hidden. This effect works best with emerald-cut diamonds with flat sides.
How To Style A Floating Diamond Necklace
So now you know how they are made, how should you style them? These types of necklaces have become so popular because they can be worn with just about anything and are versatile enough to be paired with other necklaces like chokers and paperclip chains. 
Pair the floating diamond necklace with other diamond jewellery like diamond stud earrings and diamond bracelets.
Should You Consider A Lab-Grown Diamond?
People worldwide are slowly waking up to the growing trend of lab-grown diamonds as they are learning that they are chemically identical to diamonds found in mines.
Lab-grown diamonds allow for greater purity and improved quality due to being created in sterile lab conditions. They do not have any dirt or impurities ingrained in them. In fact, a large percentage of lag-grown diamonds generally have a higher purity rating than naturally occurring diamonds that have been mined.
Lab-grown diamonds offer guaranteed origins and guilt-free shopping as naturally occurring diamonds are difficult to be aware of their origins and if they have been mined with human rights violations. However, lab-grown diamonds have a clean history and a guaranteed, trackable source.
Diamond mining damages the Earth from its enormous use of fossil fuels and the destruction of the environment to extract the diamonds, but as lab-grown diamonds grow in popularity, the supply of naturally occurring diamonds is dropping.
Which Diamond Cut Should You Choose?
When deciding which diamond cut you should look for in a floating diamond necklace, there are two options you should choose from. The first is brilliant cut diamonds that are round, reflect a large amount of light, and look stunning. Still, they aren't the ideal diamond to use in floating diamond necklaces because it is harder to hide the setting behind them, which can potentially break the illusion.
The best cut for floating diamond necklaces is emerald cut diamonds or any other cut that has squared-off sides. While they may not look just as magnificent, the floating illusion works much better.
Our Floating Lab-Grown Diamond Necklace Recommendations
NO MATCHING PRODUCT FOR 29250032
This floating diamond necklace is sure to make you stand out from the crowd with its 9ct rose gold, 12 0.20 point white diamonds and a pink diamond centrepiece that steals the show. The rose gold chain sneaks behind the setting, creating the illusion of floating diamonds. This is an excellent choice for those looking for their first floating diamond necklace.
NO MATCHING PRODUCT FOR 25260466
This floating diamond necklace has a 9 ct yellow gold chain that connects to the diamond pendant from behind, which creates the floating illusion. The pendant has been set with 1/5 ct lab-grown round diamonds. The gold chain matched with this pendant is an excellent combination that works well together with the floating illusion. This sparkly piece can easily be worn for any occasion with any attire.
NO MATCHING PRODUCT FOR 60261976
Our last floating diamond necklace recommendation is this sterling silver chain that meets at the bottom where the pear-shaped silver pendant is. The pendant has been set with 0.40 ct brilliant cut diamonds. The chain is hidden behind the pendant setting, which has created the floating illusion. This piece is perfect for any occasion and is sure to brighten your day with its sparkle every time you wear it.
Others Also Read: