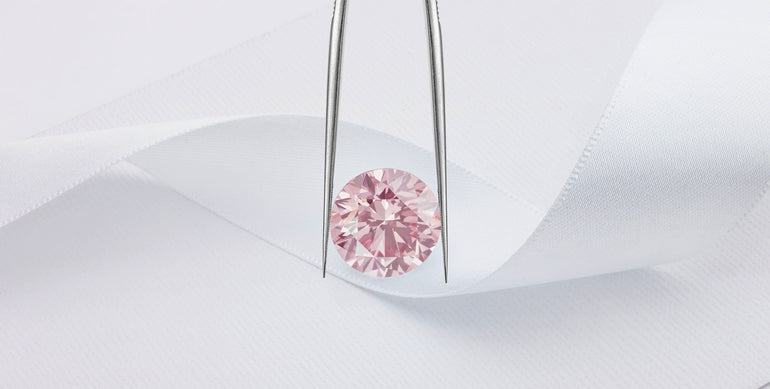 So you're wondering what an Argyle Diamond is and where it comes from? Well, you've come to the right place. We'll talk you through what exactly an Argyle Diamond is and everything else you'd need to know. 
A diamond is only an Argyle Diamond if it has come directly from the Argyle mine in Western Australia and it will have pinkish red hues. Rio Tinto Mining Corporation began mining there almost 40 years ago and it is the only significant known source of pink and red diamonds on the planet. Argyle Diamonds are known for their pinkish hues, the Argyle company has even developed their own colour grading system. The diamonds are divided into four different categories, Purplish Pink (PP), Pink (P), Pink Rose (PR), and Pink Champagne (PC). Then the diamonds are graded in colour intensity. A 1 PP would be more vibrant pink than a 5 PP for example. The most common colour found in the Argyle mine is a bubblegum pink tone, and the rarest occurring diamond is a red Argyle diamond.
Overview:
How Did They Get Their Pink Colour?
The unique composition of the Argyle diamonds is due to a volcanic pipe in Western Australia called the Argyle pipe, it is made of olivine lamproite. Because of a volcanic eruption minerals zeolite, micas, kaolinite and clays mixed with the diamonds during their formation which caused their pink colour. 
Pink Diamond Rarity & Price
The Argyle diamond is supplying more than 90% of the world's pink diamonds and most pink diamonds from other locations like Russia are a different colour, they are generally closer to that common bubblegum colour seen in the Argyle mine. Due to the low supply and high demand for Argyle diamonds, it has driven their price up drastically. Argyle diamonds have sold for close to half a million dollars while other types of pink diamonds have sold for around 200 thousand. 
Why Are Argyle Diamonds So Popular Right Now?
Over the last decade or so there has been a steady decline in the amount of Argyle pink diamonds being mined. They are simply running out of diamonds to mine to keep up with the costs of running the mine. So in 2020, Rio Tinto decided to close the mine permanently. With the news of the mine closing and Argyle diamonds becoming a limited supply people have started buying more Argyle diamonds while they still can. Investors and private collectors are buying them up as much as they can for potential increased future value.
How To Choose The Right Argyle Diamond
When it comes to diamonds with coloured hues, the most important factors are generally the vibrancy of the colour, size and clarity of the diamond. It's recommended to go for diamonds with the most vivid and intense coloured diamonds. However, that shouldn't stop you from getting the diamond that is most appealing to you. 
Are Lab-Grown Alternatives The Next Best Thing?
Lab grown diamond jewellery is more affordable and eco-friendly compared to its mined counterparts. Despite being made in a lab, these pink diamonds are just as real as the diamonds mined from deep within the Earth. They are so indistinguishable that if you were to compare a lab-grown pink diamond with a real one it would be impossible to tell the difference between the two. 
An advantage of lab-grown compared to naturally occurring diamonds is that they are able to make larger, brighter, better diamonds for a fraction of the price. They are also just as easy to maintain, both ranking at a 10 on the Mohs Scale of Hardness.
Our Favourite Luminesce Lab-Grown Pink Diamonds
Luminesce Lab Grown 0.15 Carat Pink Diamond Ring set in 9ct Rose Gold 6 Claw Setting
NO MATCHING PRODUCT FOR 29250030
This stunning rosegold ring has been set with a 0.15 carat pink diamond that takes this ring to the next level. Perfect for making a subtle statement, this unique ring is sure to stand out from the rest. 
Luminesce Lab Grown Pink Solitaire Diamond Pendant with Chain Included 9ct Rose Gold
NO MATCHING PRODUCT FOR 29250043
If you're after a necklace that features a beautiful pink diamond this necklace is the one for you. It features a brilliant cut pink diamond that compliments the think rose gold chain its attatched to. This piece of sure to make the person wearing it feel more special than the ever have before.
Luminesce Lab Grown Pink Diamond Solitaire Studs in 9ct Rose Gold
NO MATCHING PRODUCT FOR 29250042
These stunning rose gold studs have been set with a brilliant cut pink diamond that suits the rose gold colouring perfectly, the two colours were made to go together. Once you have these on your ears they will immedietley become your favourite pair of earrings in your collection.
Great Clear Diamond Alternatives
Luminesce Lab Grown Diamond 1/2 Carat Silver Double Heart Pendant on 45cm Chain
NO MATCHING PRODUCT FOR 60261980
If you're after a necklace with a unique pendant this is a great pick for you. The clear diamonds complement the shining sterling silver perfectly. Just like the rose gold and pink diamonds these lear diamonds and sterling silver are just meant to go together. Get this piece as a symbol of your love for someone special in your life and they will treasure it forever. 
Luminesce Lab Grown 9ct Yellow Gold 0.40 Carat Diamond Ring with 41 Diamonds
NO MATCHING PRODUCT FOR 25260295
This ring is absolutely covered in lab grown diamonds it's truly an amazing piece with ribbons of gold that meet in the middle to form a beautiful floral centrepiece. This is a great gift for a special moment.
1/5 Carat Luminesce Lab Grown Diamond Silver Bolo Bracelet
NO MATCHING PRODUCT FOR 29250225
This floral bracelet features diamonds that have been set in the shape of flowers along the front side. It's classy and simple, the diamond and silver complete the look. The premium sterling silver and diamonds are durable enough to survive longer than a lifetime. 
Whether you're after lab grown diamond rings, lab grown diamond necklaces, lab grown diamond earrings or anything in between, you've come to the right place. Luminesce has a great range of jewellery to choose from. Have a look at our sale under 500 for something at an absolute steal.
Others Also Read: